Social media is now considered a powerful platform for marketing in business. Hence, the top brands are using social media marketing strategies and hiring the top social media agencies in Mumbai to expand their reach to customers. Customers now check the social media sites of the products and search them on platforms like Facebook, Instagram and other pages before making a buying decision. If your brand is not on these platforms, it is majorly missing out on the goal of reaching a wide audience.
Benefits of Social Media Marketing
Social media is considered to be an effective and free channel to market your business products in today's era because of its versatility and wide reach among the audience. Hence, even if it is a startup organization, availing of the social media marketing services in Mumbai is a must if you want to reach the target audience and carve a niche amongst the competitors. Having social media presence helps in the following ways for a brand: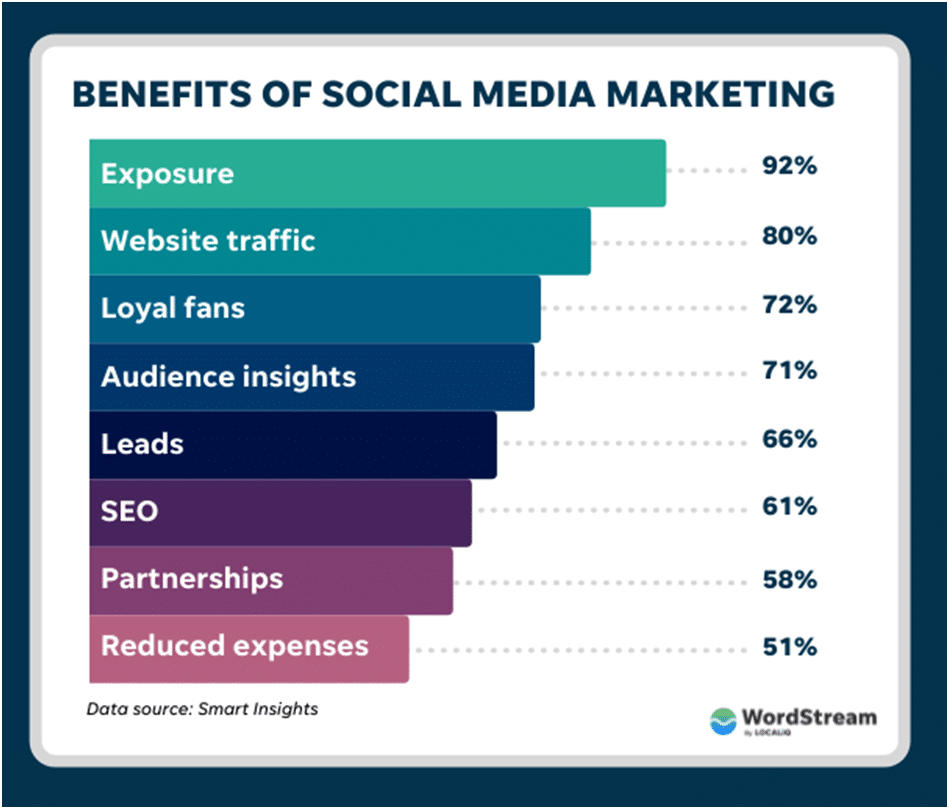 Drives traffic:
The blog posts and ads assist in driving traffic to your website. It helps to convert the visitors of the site into long term customers.

Brand awareness:
A good social media marketing strategy increases the visual identity of your brand and ensures it reaches a vast audience.


Builds relationships:
The services of top social media agencies in Mumbai ensure to build good customer rapport and address their questions easily over these channels. It ensures building positive relations with the customers which is a must for word-of-mouth publicity in that particular area.


Humanizes your business:
Having social media pages for your business makes you an active participant in the market. Your team can have direct contact with the customers through these pages, understand their feedback and even get suggestions for improvement which shows the brand cares for the customers.


Brings new leads and indirectly customers:
These platforms help the brand to get a pool of probable customers and even convert the leads to buyers. It gives the business owner various options such as Call-to-action and power buttons that will compel the customers to take initiative in buying the brand's products.
Why have social media platforms for business?
According to available statistics, 64% of social media marketers are planning to invest in social media marketing strategy in 2022. These channels are now being thought of as vehicles to drive your business and are considered to be important for the brand's active participation with the customers. The top social media agencies in Mumbai opine that they not only assist in cost-cutting for the brand but also get the customer insights which is a very essential factor for the success of any business. It helps the business focus on the customer first and is considered to be a good way of boosting customer engagement.
Choose your social media marketing agency wisely!
Ambest Brand Communication Agency is the best company that offers social media marketing services in Mumbai at very affordable prices. We have a team of social media professionals that provide consistently creative output for your brand's growth. Our strategies ensure an emotional connection with the audience which is bound to provide you with memorable results. To give your brand an effective social media reach and increase customers, contact us.
Brands Invest More in Social Media Marketing Strategy